Dr William Maxwell. 1760-1834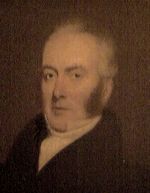 William was born in 1760 the second son of the Jacobite, James Maxwell of Kirkconnell, and his wife Mary Riddell. His father died when he was two, so he spent his early days under the influence of his English mother. With his two brothers, in August 1771 William was set to school at the Jesuit College at Dinant in Flanders. There, the boys had an ally in their uncle, Father George Maxwell who was one of their teachers at the college. Dinant was a renowned school for the sons of Scotlandís Jacobite houses. The Catholic church was in turmoil at that time, the Pope was using his influence to suppress the Jesuits and when Dinant was forced to close in 1773, the boys moved to the 'Academie Anglaise' in the free principality of Liege. William was a good student enjoying a natural gift for sciences and drama. He matriculated in 1776 and returned to Kirkconnell were he was to spend the next eight years.
At the age of nineteen he was struck down with a mysterious illness which persisted for two years but in 1784 he enrolled at Edinburgh University to study Medicine. His natural bent for the sciences served him well and three years later he qualified as a doctor. It was during these years of study that William became acutely aware of the new enlightenment that was sweeping through Europe, he easily adopted these ideals and was later to pursue them to the point were his life was threatened.
After two half hearted attempts to start medical practices in London and then Dumfries, William set out for a Ďgrand tourí of Europe, however, he got no further than Paris, the flashpoint of the republican revolution. When he arrived there, the great city was a hotbed of discontent. William, the idealist, found himself surrounded by like minded people who were getting ready to change the world. The young reformers that William befriended were to be the leaders of the revolutionary forces that were to purge France of its aristocracy. At his family's pleading, William returned to Scotland late in 1789. They, implored him to pursue a medical practice, but young William's blood was fired, and following two more failed practices he set out for London with £500 that had been left to him when his younger brother died.
The revolution in France was now underway and William itched to be there, but he was recruited to procure arms for the revolutionary forces. He went to Birmingham were he ordered 20,000 daggers, but on returning to London, found himself the centre of much attention following a speech in the House of Commons by Edmund Burke who had condemned him for his Jacobin sympathies and revolutionary actions. Wisely, William fled London and headed back to France were he was welcomed by his now powerful friends. He enlisted into the National Guard and was given positions of great trust which culminated in him commanding the guard that led Louis XVI to his appointment with the guillotine on the morning of 21st January 1793. On the 1st February, France declared war on Great Britain, with no intention of becoming a traitor to his country, William deserted his comrades and headed for home, landing at Dover on the 27th February.
For William, the great enlightenment had darkened, the past few months had seen his new world ideals turned to butchery and his friends to enemies. Disillusioned, he headed back to Kirkconnell. Lack of funds drove him to take up medicine again this time with a little success. He built up a small practice in Dumfries were he made little money, but enjoyed the acclaim of a celebrity, much to his families embarrassment. Later, he moved to Edinburgh where an unidentified liason led to the birth of his daughter Elisabeth who lived under his protection from a very young age. It is not known when William met Robert Burns, but it is obvious that the young poet held the Doctor in high regard. It was undoubtedly their common support of republicanism that sealed their friendship. So strong was that friendship, that the day Burns died, his new born son was named Maxwell after the good Doctor.
In his later years, William mellowed into a quiet, respectable man of medicine. He passed away on 13th October 1834. His association with Burns and with the early days of the first revolution in France, assured him of a permanent place in history.
Willielma Maxwell, Lady Glenorchay 1741-1786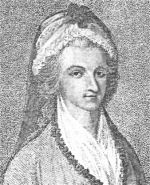 Willielma Maxwell was born on 2nd September 1741, the second daughter of William Maxwell of Preston and his wife Elizabeth Hairstanes, the heiress of Craig. Her father died within a few weeks of her birth. He was descended from the Maxwells of Carnsalloch and was said to have been possessed of a large fortune which was split between his two daughters and his widow. Willielma's mother Elizabeth was a an ambitious woman who determined that he daughters should both make good matches. To that end she moved to Edinburgh and set up a good home in the Haymarket. By 1760 there were three good matches in the small family, Elizabeth had taken a second husband in the form of Lord Alva, a Senator of the College of Justice Her eldest daughter Mary Maxwell married William, 15th Earl of Sutherland and Willielma had just married John, Viscount Glenorchay, the eldest son and heir to the Earl of Breadalbane. From their quiet modest beginnings in the farmlands of south-east of Galloway these young ladies had grown up to marry into two of the principal earldom of the land.
Willielma sister, Mary, bore the Earl of Sutherland two daughters, but with in a year of the younger ones birth, both Mary and her husband were dead from a "putrid fever" which they had contracted whilst visiting the Spa at Bath in England. Only the second child survived and grew up to be the Countess and later Duchess of Sutherland. Willielma was a happy bride and very fond of the great wealth she married into. She liked to host great balls, go to the theatre and play cards until early in the morning. However after the loss of he sister in 1766, she "fell under religious impressions and was converted to God". This was to have some effect on her husbands disparate life but he was not long for the world and died in 1770.
This left a second great fortune to Willielma. She had struck up an intimate acquaintance with the reformer John Wesley and he had influenced her early religious thinking but returned to the Presbyterianism in which she had been raised after disagreeing with him about his Armenian doctrines. She rented a church in Edinburgh and had services conducted by Presbyterian, Episcopal and Methodist ministers but religious bigotry was rife at the time and the scheme did not work out. Willielma them bought the church and settled on a Presbyterian foundation with the eventual approval of the general assembly of Scotland. The church is still known as Lady Glenorchay's.
She established a number of other churches in Scotland and England all with generous endowments. She lived at Barnton House to the west of Edinburgh but took charge of her father-in-laws home at Taymouth Castle where she settled evangelical clergymen in the local parishes. She died in 1786 at the age only 43 . She had suffered much ill health but bore it with quiet identity in her pious way. She left vast legacies to her foundations and churches with further sums to establish a society for Propagating Christian Knowledge and further sums to be expended in evangelical work on the estates of Sutherland and Breadalbane.
Sir Robert Maxwell of Orchardton 1727-1786

Robert Maxwell was the only son of Sir Robert Maxwell of Orchardton was born at Orchardton Tower in 1727. When he was twelve years old he was sent to the Jesuit College at Douay, in Flanders. His father, who suffered from a form of religious mania, handed over the running of his estates to his younger brother, enabling him to concentrate on his holy devotions. He died soon after, leaving the estates in trust to his son Sir Robert's brother, Thomas, determined to keep the estates for himself made it known, that the heir to the title was to become, a priest and had a sum of money being sent to Douay, ordering that Robert Maxwell should renounce all worldly possessions and be trained in the priesthood.
Parliament duly accepted his explanation and the estates passed to Thomas along with the Baronetcy. However, soon afterwards, the new laird died and was succeeded by his son, who became Sir Thomas Maxwell of Orchardton. Sir Thomas, was an unsavoury young man who had no intention of letting his cousin have any of his rightful inheritance. Meanwhile Robert, grew suspicious and realised that he was being groomed for the priesthood, so he ran away and enlisted in the French army. At this time (1743) France and England were at war and there were many Scots in the ranks of the French army. Robert was a keen recruit and learned his trade in battle at Dettigen and Fountenoy. He was duly promoted and given a commission.
Robert came back to Scotland as one of the French troops sent to assist Bonnie Prince Charlie. Lieutenant Robert Maxwell disembarked from a French man-of-war in the Moray Firth and the young mercenary led his troop of Frenchmen south to join the Jacobite army near Prestonpans where he distinguish himself against the English when they were surprised and beaten. After Prestonpans Lieutenant Maxwell with his troop went south to Derby where ill advice caused the Prince to order his men back to Scotland. At Culloden Moor they were met by the Duke of Cumberland, and were disastrously defeated. Robert Maxwell was badly wounded leading a futile charge. The survivors of his troop carried him from the field and into Lochaber, where they went into hiding until his wounds healed. When he was recovered, he ordered his men to make their way back to France, while he travel south to his home country.
He was captured in Longwood, near Dumfries as a common rebel and arraigned before the Commissary of Dumfries and sentenced to death as a traitor. As he was being led from the courtroom, Robert took out his commission and tore it up, but was seen by John Goldie of Craigmuie, the Chief Magistrate. He ordered the paper be brought to him and, piecing it together, read it. When he realised what it was, he ordered that a man should be held as a prisoner of war. He asked who the young man was and Robert replied, "I am Robert Maxwell of Orchardton Tower, Your Honour." An elderly lady came forward and identified Robert having been his nanny when he was young. She told Mr Goldie that his prisoner was the rightful owner of Orchardton and how his lands had been taken from him by trickery. Robert was eventually freed and sent back to France to resign his Commission and collect evidence that he could against his cousin. From the college at Douay he obtained evidence of his late uncle's conspiracy to have him join the priesthood.
In 1747 he returned to Scotland, renounced his religion, became a Protestant and took out a law suit against his cousin claiming the lands and title of Orchardton. The Court of Session found in Robert's favour, on hearing that he had lost, Sir Thomas died of apoplexy The estates of Orchardton were worth £10,000 per annum and Sir Robert set about building a new house at Glenshinnoch which he renamed Orchardton. He married the daughter of Sir Robert MacLellan of Barscobe, and a niece of Lord Kirkcudbright. Through this marriage he eventually became proprietor of Kirkcudbright Castle. Sir Robert invested heavily in the Bank of Ayr which in 1773 went bankrupt and most of his fortune was lost. He and his wife were forced to leave their new house and live in more humble surroundings, Mrs Goldie, daughter-in-law of the worthy John Goldie, describes Sir Robert as follows: "He was the ornament of delight of the country, uniting all the gentlemanly dignity of the old school with the bland and graceful gaiety of foreign manners". Sir Robert Maxwell died in September 1786,. He had no heirs and all of his estates were eventually bought by James Douglas, brother of Sir William Douglas, the founder of the town of Castle Douglas.