The Clan Maxwell Society of Canada was founded in 1993 to meet the needs of Canadian descendents of Maxwell families, and sept families, which include
Adair, Blackstock, Cardoness, Dinwiddie, Dinwoodie, Edgar, Farnham, Herries, Kirk, Kirkland, Latimer, Latimore, Mackittrick, Maxton, Mescall, Monreith, Moss, Nithsdale, Paulk, Peacock, Pollock, Pollok, Polk, Sturgeon, Wardlaw.
A newsletter, containing genealogical information, tidbits, poems, family histories and Scottish history, is published periodically.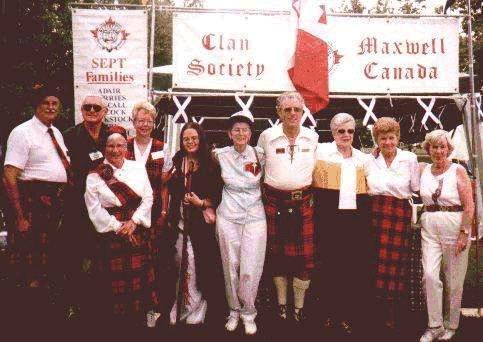 Society members at the Montreal Highland Games 2000.
Membership applications can be obtained from:-
Mrs. Jacqueline Rowan, Sec.
282 Shamrock Court
Oshawa,
Ontario,
Canada
L1J 6X9
Telephone: 905-728-3864
The society has a prize winning web site at:- http://www.clanmaxwell.com/clanmaxwell.htm