The Clan Maxwell Society of the United States of America
The Clan Maxwell Society of the USA was founded in 1964 by Mervin (Scotty) Maxwell of New Orleans and is dedicated to linking Maxwells with each other and with their Scottish roots. The Society has more than 400 members throughout North America and includes Maxwells and the following Septs and Dependent Families:
Adair, Dinwiddie, Dinwoodie, Edgar, Herries, Kirk, Kirkland, Latimer, Latimore, MacKittrick, Maxton, Monreith, Moss, Paulk, Peacock, Pollock, Pollok, Polk, Sturgeon, and Wardlaw.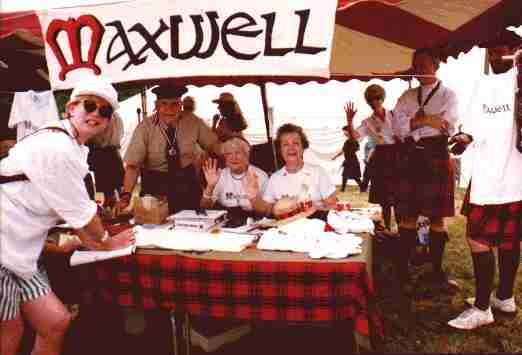 Society members at the Grandfather Mountain Highland Games.
The Society holds an Annual Meeting in conjunction with one of the many Scottish games and clan gatherings in which it participates each year. The annual meeting in 2000 coincided with the Grandfather Mountain Highland Games in North Carolina. Membership dues are $15 for new members and $10 annually after the first year. New members receive a distinctive Clan Maxwell pin, Membership Directory, several pieces of Maxwell background information, and our quarterly newsletter, THE HOUSE OF MAXWELL. All members are also invited to participate in a database which is being built to help Maxwells with genealogical quests.
For further information or to join the Clan Maxwell Society of the USA, contact the secretary:
Catherine Long
246 DeLee Drive
Kingsport,
TN, 37663
The Society website is at: http://www.clanmaxwellusa.com